Our primary goal is to support vulnerable children through education, health care, food, clothing, and shelter. DCF educates and provides the basic needs to orphans and poor children. But we also educate our youths and women with small business skills.
Our mission is to provide not just the basic needs, but also to instill morals & life skills to help our vulnerable children grow, learn, and eventually become independent. We believe that every child must access education. That's why we support poor single mothers by providing affordable pre-primary school education.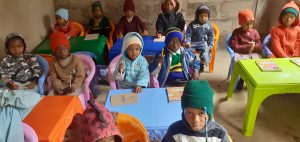 Our objectives are to educate, feed, and keep vulnerable children safe. We run a daycare and nursery school where we provide the children with education, food, and moral support. We create a safe environment for the kids to play, learn and express themselves in readiness for their adult life.
We organize community projects to empower the youths and women with income-generating skills to eradicate poverty. As we train our local communities, we also provide education and counseling on HIV/AIDS.
We also carry out soil analysis and educate on its importance.
DCF's school program is open to all children in the community. The parents who can't afford school fees get free education. While the families that can afford the fee, pay a small fee of Tsh.20,000 (about $8) per month. Though the paying families are the minority, the school fees collected are used to feed all the children.
Learn more about DCF