DCF leads projects to empower the local communities with small business skills to eradicate poverty in the Meru district. We welcome people of all ages and gender to take advantage of our initiatives to improve their lives. 
We currently have two ongoing projects:
The beekeeping project funded by KLJB Dürnsricht-Wolfring


The vocational training center funded by DCF Founder, Mr. Peter Valentine


Beekeeping Project (A Partnership with
KLJB Dürnsricht-Wolfring and Tanzania Forest Services)
We are thrilled to run a beekeeping project where we aim to empower over 100 youths in the Meru district through established youth groups.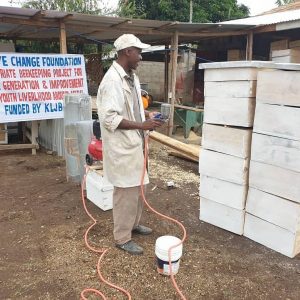 DCF has partnered with Tanzania Forest Services (TFS) to farm bees in government forests in the Arusha region, as KLJB funds the beehives' construction and beekeeping training.
After training on beekeeping, each youth group will receive 60 beehives. We aim to give 300 beehives in total.
So far, we have trained and issued 150 beehives. We project to issue the remaining 150 in September 2021.
Update: We issued 180 beehives in September!
DCF manages the youth groups to keep things running smoothly. We also intend to buy machines to milk honey. And also help the youths with packaging and reaching the market.
This project will support the youths and also contribute to DCF's income to sustain the foundation.
DCF
Vocational Training Center
DCF has crossed a major milestone by starting a vocational center to equip the local youths with craftsmanship skills. We currently have trainers on carpentry and welding.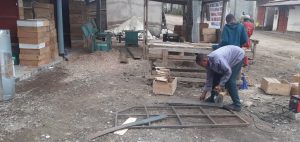 This is where the youths learn to make beehives. The youths get this training free of charge in the hope that they will use the skills to earn a decent living.
Besides the beehives-making training, the DCF founder, Mr. Peter Valentine, funds other trainings in the vocational center.
So, we are looking for partners and donors.


Our Projects' Vision
DCF aims to hire teachers from the Government to train our students so that they do The National Exams and get certificates.


We aim to hire more local and international teachers to train the youths and women at our Vocational Center. We intend to provide training on Computers, Electronics, Carpentry, and Auto Mechanics.


In January 2022, DCF aims to start an Outreach Program in Arusha to sensitize early pregnancies and marriages, female genital mutilation, and HIV/AIDS counseling. 


DCF prospects to own a vehicle to run the outreach program as well as seminars and overseeing the Beekeeping projects.
We welcome partners and donors to support our projects to empower the youths and women with income-generating skills.
Learn more about DCF